Case Study: Pool Squad
Discover how Ricky Solomon, owner of Pool Squad, overcame the challenges of managing a growing pool development company. Learn how ServCraft's job card management system helped Ricky save time, increase productivity, and deliver a superior customer experience.
by Charles Freedman, CEO at ServCraft - 2023-05-19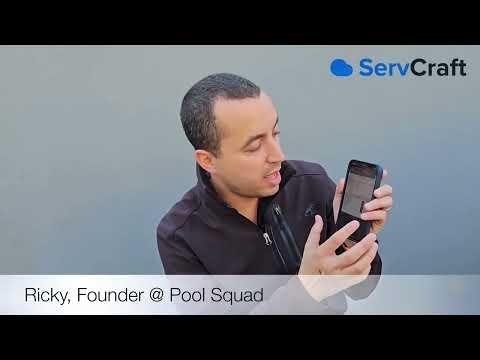 Videos
Life before and after ServCraft Pool Squad
Introduction
Ricky Solomon runs Pool Squad - one of the leading pool development, maintenance and repair companies in Gauteng, South Africa, managing pools across commercial and residential properties.
As the business grew, it became harder to manage their paperwork and teams. Jobs slipped through the cracks and customers weren't getting the experience they signed up for. Ricky was spending his time running around after information and redoing work - rather than thinking about growing the business. It was a customer who nudged Ricky to look at technology. He realised that without it, he'd never be able to grow Pool Squad. After dipping his toe with an international job management software, he was introduced to ServCraft, a job card management system, and never looked back. ServCraft has transformed his operations, saving him time and money, alongside giving his customers a slick and professional experience. Now he's able to grow with complete control, higher productivity, and with nothing falling through the cracks.
The problem
It was easy enough when he started. A5 branded job cards were handed out to technicians who scribbled on them during the day and handed them in the next day for quoting and invoicing. A whiteboard was used to document the issues and manage the teams on the road. As business picked up, it became clear there was a problem. Lost cards, bad handwriting, delayed quotes and invoices. The whiteboard quickly became too small and changed so often that not enough information was available for the office or the teams to understand and solve problems for customers. Things began falling through the cracks. Lost job cards. Delayed quotes and invoices. Customers complaining about work that was or wasn't done. All whilst the team worked even harder to stay on top of things. Something needed to change.
Why Pool Squad chose ServCraft
Ricky was introduced to ServCraft a few months after using an international job management software. He wasn't getting what he needed from the job management software he was using. The local South African team showed him a demo that ticked all his boxes for managing a pool repair and maintenance business he was in. Ricky loved the fact that the local team understood what it was like running a pool maintenance and repair business in South Africa - and were so committed to helping improve his operation. ServCraft's integration with Xero was also a big plus. Now Ricky could integrate his financial management and operation management powering productivity and saving time. ServCraft worked with Ricky and his team to design the job card and ServCraft that worked for him and his business. ServCraft's people and passion to help him with the change made a big difference to the impact ServCraft was able to make.
How ServCraft supported Pool Squad
Ricky and his team were contacted by a ServCraft expert who took the time to understand the specific problems and processes in the pool repair and maintenance business - as well as the experience Ricky wanted his customers to have. From there they sat together and designed a ServCraft that worked for them. It didn't stop there. ServCraft's Implementation Coach collaborated with Pool Squad's team to design, plan and implement Pool Squad across the business. This involved training the teams, testing the processes, and making sure they got the results they needed. Ricky chose a date and went live. ServCraft's local team is in touch regularly with Ricky and the Pool Squad - responding to questions, sharing how new features could help and providing training to Ricky's growing team. The results ServCraft's job card management system has changed how Ricky and his team spends time on his pool repair and maintenance business. Instead of fighting fires and looking for information in the business Ricky gets to work on the business using the information at his fingertips to make better decisions faster and focus on growing the business even more. Ricky and the team are in control of their jobs from the moment the customer reaches out to the moment they pay. ServCraft's job management software means nothing falls through the cracks. Leads. Quotes. Jobs. Invoices. Everything is managed tightly with less time and effort than it was previously. More productivity means that Ricky and his team can do more with less thanks to ServCraft's job management software. Teams can get to more jobs and the office can focus on solving customer problems, winning work and getting paid. The customer experience has also been transformed. Now customers get a detailed report with pictures and readings of the job as soon as it's closed. No more question marks about what Pool Squad did whilst the customer wasn't there. Quotes and invoices pop into customer emails almost as they close the door to the team to make a cup of tea. Ricky is winning maintenance work from repair customers who are impressed with the experience they have.